Sensory integrated calming yoga poses- from Liam 
Last Friday, I posted my latest Youtube video.  Not only was it a gorgeous day, but I got help from my favorite teacher- my son, Liam.  We decided to go to a quiet park nearby, play in the sand, observe the busy animals, and film a short, calming yoga flow for sensory regulation.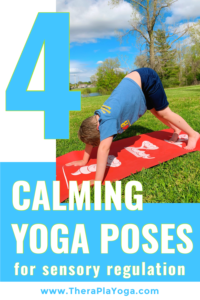 This video is for you if you want sensory exercises that promote sensory regulation in your child with special needs- autism, down syndrome, ADHD, or sensory processing disorder.  In this kids' yoga video, Liam will teach you 4 calming poses for special needs sensory regulation.
These calming techniques are ideal for kids with behavioral and emotional challenges.  This short flow can be used as a sensory break, sensory diet, or even bedtime routine.
Here's a morning yoga routine I made for the mamas but would be good for kids too.
If this type of content is your jam, subscribe to my channel, give the video a thumbs up, and share with your people.  Reminder: comments on my channel are off.  If you have questions or comments, you can share your thoughts in this blog post or my latest Facebook or Instagram post.
If you share this video, post, or pics of your child doing some calming poses, tag me @TheraPlaYoga #TheraPlaYoga.  I'd love to see your kidlets practicing.  I'm thinking it'd be fun to add a community feature either here or on my social platforms.
Until next time,
xx Glo
P.S. (OMG!  I know, right?  One more thing.  I'll be sharing TheraPlaYoga™ and how to Achieve Sensory Regulation with Yoga on a webinar THIS Thursday, May 28- hosted by Fun + Function.  I'd love to have you join me. The end.  Seriously this time).