THERAPEUTIC YOGA Classes FOR SENIORS, Parents, CAREGIVERS, AND ADULTS with DISABILITIES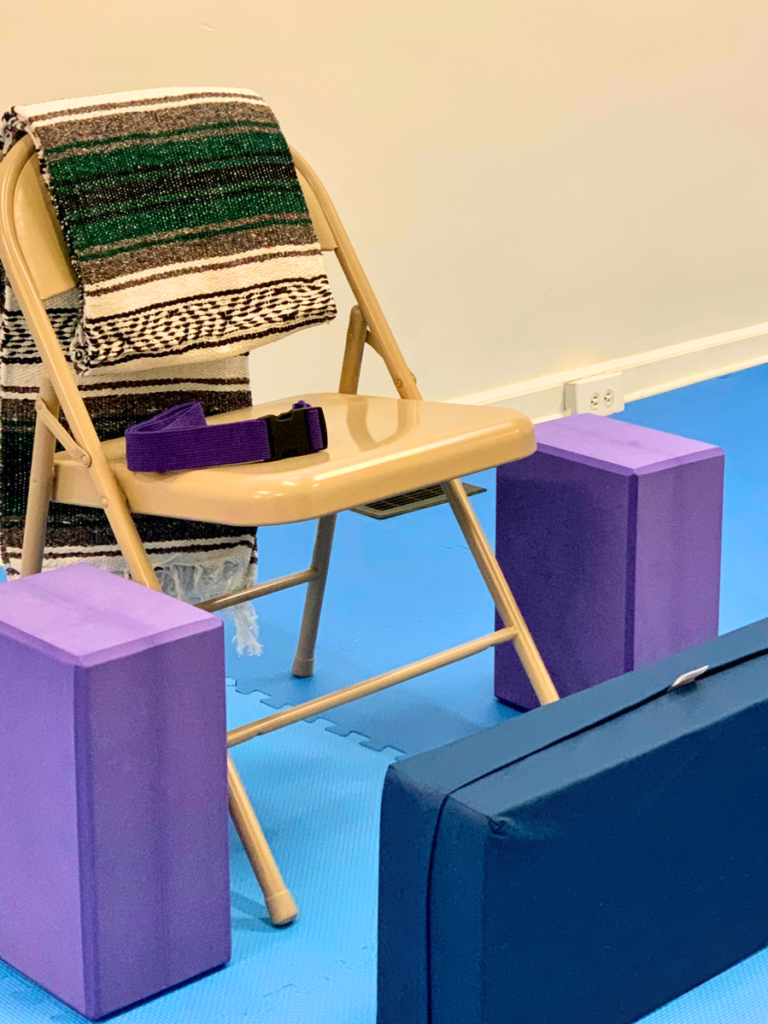 Between the gajillion other requirements exhausting your energy
and
not having the time to TRY another thing…
Making sense of abstract prompts and contorting your body into awkward shapes;
Worried you're gonna be sore, fatigued, or worse come tomorrow-
Is NOT the wellness journey you're tryin' to be on.
You don't feel comfortable in a typical yoga studio and it's too difficult-
swaying on the side of not worth it-
to find the right movements and techniques to, safely, suit your needs
Adaptive Yoga Classes for Adults in Lansing
Therapeutic playful yoga for diverse bodies, brains, and abilities.
Whether you're dealin' with:
✅ a nagging injury or limitation
✅ chronic pain, chronic illness, or chronic stress
✅ physical, mental, or developmental disabilities
✅ or a brand sparklin' new beginner
You wanna be confident DOING yoga &
invest in a practice that will help, not harm.
And you can't be tricked by a teacher doing, self-proclaimed, "advanced" poses;
while telling you classes are "all levels." 🤨
Plus, you don't have the time OR the feel-like-it energy to wait on benefits from a class that never had your needs in mind.
Yoga- is good for you.
You know this because you've Googled around and EVERYONE and their therapist says so.
From parenting wildlings, householder burnout, and trying to keep it all together
to mobility challenges, chronic pain, health conditions, and fatigue…
F'real…
You just wanna feel good and think good-
doin' all that you love (and need to do) with ease.
Here's the thing…
1 in 4 adults have a type of disability-
from mobility and self-care to cognition and independent living
AND
disabled adults have a higher rate of poor health status
and chronic health conditions than non-disabled adults.
Yoga is ONLY good for you,
if it's a SUSTAINABLE practice… you can *ach-u-ally* DO.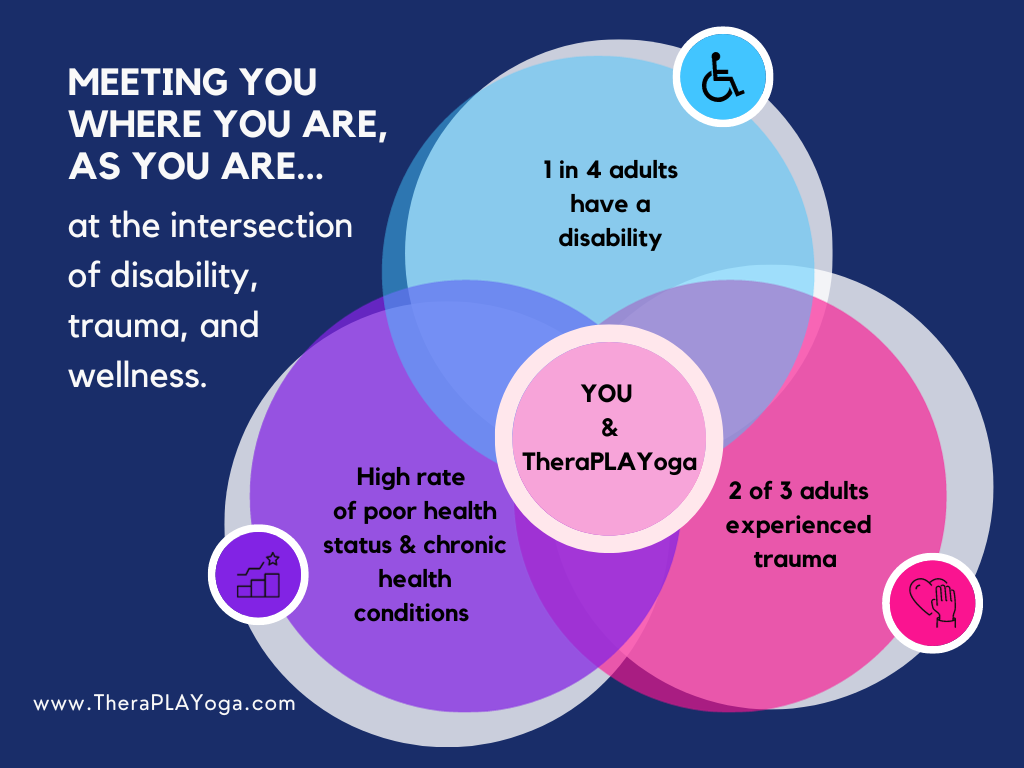 Adaptive & Therapeutic Yoga- is BEST for you.
Maybe you've tried yoga at home, been to a yoga studio you didn't love, or haven't yet dared;
TheraPLAYoga is your place and practice to learn accessible and effective ways of connecting and moving; that your body and nervous system will appreciate.
TheraPLAYoga Adaptive Yoga Studio- Lansing
Born out of personal experience, education, and the deep desire to create a place and practice for neurodivergent, disabled, and trauma impacted individuals and families-
TheraPLAYoga is leading the way in a radically inclusive, truly accessible approach to yoga for well-being.
Practice with COMPASSION & PURPOSE,
not comparison & perfection.
Adaptive yoga classes for adults are rooted in anti-ableism and therapeutic intentions.
Supporting healthy joints, mobility, and mental health with innovative movements and nervous system regulating techniques;
So that you can feel good NOW… and in another twenty years.
Therapeutic yoga classes for adults emphasize 🪄
✨ Trauma-sensitivity & Anti-ableism
✨ Mobility & stability over flexibility
✨ Functional & dynamic movements
✨ Science with ancient wisdom & philosophy
✨ Engaged Community
Learn more about TheraPLAYoga.
In yoga classes for adults at TheraPLAYoga,
You'll enjoy non-strenuous, accessible movement education and compassionate, sensory somatic based practices to help you feel better in your body and mind.
This is yoga for real life- all it's complexities-
and the complex & diverse people navigating it.
Move with more LOVE and less harm.
Types of Therapeutic Yoga Classes for Adults at TheraPLAYoga
These are categories of class offerings to better understand who I serve;
Upon registering, read specific class descriptions to help you choose the Cinderella fit. ✨
Adaptive Yoga for Young Adults with Disabilities
Therapeutic Yoga for Neurodivergent, Disabled & Trauma-Impacted Young Adults
Yoga classes for young adults, aged 18-25 years, are affinity based with a therapeutic intention; but geared toward young adults to encourage social engagement and relationship building.
💟 Seek physician advise & approval before registering.
Adaptive Yoga for Adults with Complex Needs
Therapeutic Yoga for Adults with Disabilities, Limitations, or Trauma
Yoga classes for adults, aged 18+ years, are affinity based with a therapeutic intention. Classes may be geared toward people with disabilities, trauma, or various limitations. See each class offering description for details.
💟 Seek physician advise & approval before registering.
Adaptive Yoga for Caregivers
Therapeutic Yoga for Parents, Caregivers & Educators
Yoga classes designed for parents and caregivers, who have or serve neurodivergent, disabled, or trauma-impacted children and adults. Caregivers include non custodial, hired helpers and educators/teachers.
💟 Seek physician advise & approval before registering.
Accessible Prenatal Yoga
Prenatal Yoga for High-Risk Pregnancies
Yoga classes to support the physical and mental health of high-risk pregnancies. High-risk refers to the state of the pregnant person OR the fetus (i.e. chromosome and congenital anomalies).
💟 Seek physician advise & approval before registering.
Adaptive Yoga for Seniors
Therapeutic Yoga for Older Adults / Grownups
Yoga classes designed for O.G.s (older grownups), aged 65+ years. Whether you're disabled, experience chronic pain, or simply aging- classes offer a safe, therapeutic practice amongst peers.
💟 Seek physician advise & approval before registering.
BEFORE you register for a class, review my studio policies and etiquette.
This button link will open a new page; so you don't lose your place in reading here.
How you align with my policies and boundaries will be a good indicator of whether or not working together, in any capacity, will be a good fit.
Classes are open! Here's the Process:
Step 1: Read my policies page. If you're aligned with everything on that page, it's a green light.
Step 2: Click the schedule to find a class that suits you.
Didn't find one? Fill out the interest list form and tell me what you're lookin' for; chances are you're not alone.
Step 3: Register and add to your calendar.
Don't see an offer for you?
Click on the interest list button to-