Adaptive yoga that's radically inclusive, body positive, trauma sensitive and TRULY, for EVERY BODY.
TheraPLAYoga is therapeutic, playful yoga for kids, teens, and adults- individuals and families.    TheraPLAYoga is an inclusive, compassionate, diverse, body positive, and accessible tool for wellness for people who think they "can't" do yoga (and anyone wanting to Namaste and play).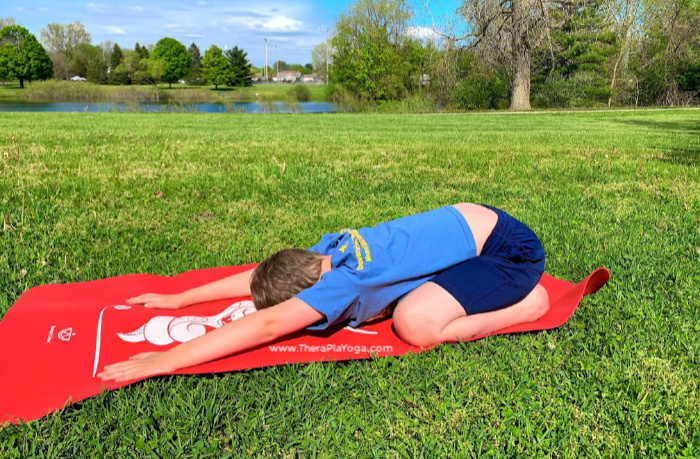 Mobile Yoga Studio in Lansing, MI
As a mobile yoga studio and private teacher, I can provide yoga for everybody, anywhere- home, school, work, community center, or park.  I can custom build workshops, 4-6+ week courses, one-time classes or events, parties, and video series to fit your unique needs.
Pop-up yoga
1:1 and semi-private yoga
Family Yoga
Enrichment Programs
Workplace Wellness
Yoga Parties (for all ages + occasions)
I'm eager to collaborate with community minded folx for pop-up yoga events.
Yoga Styles
Yoga styles range from Hatha, Vinyasa, Restorative, a sprinkle of Kundalini, to chair yoga- and are ALWAYS adaptive and trauma sensitive.  Group classes are inclusive and diversely integrated.  Meaning each student may be prepared in the physical pose separately, in honor of their body.  But we all practice together.
Group and private practice can include aromatherapy, therapeutics, somatics, breathing, meditation, relaxation, anatomy, yoga philosophy, chakras, mudras, and poses- with a focus on the functionality of the form that feel best in your body.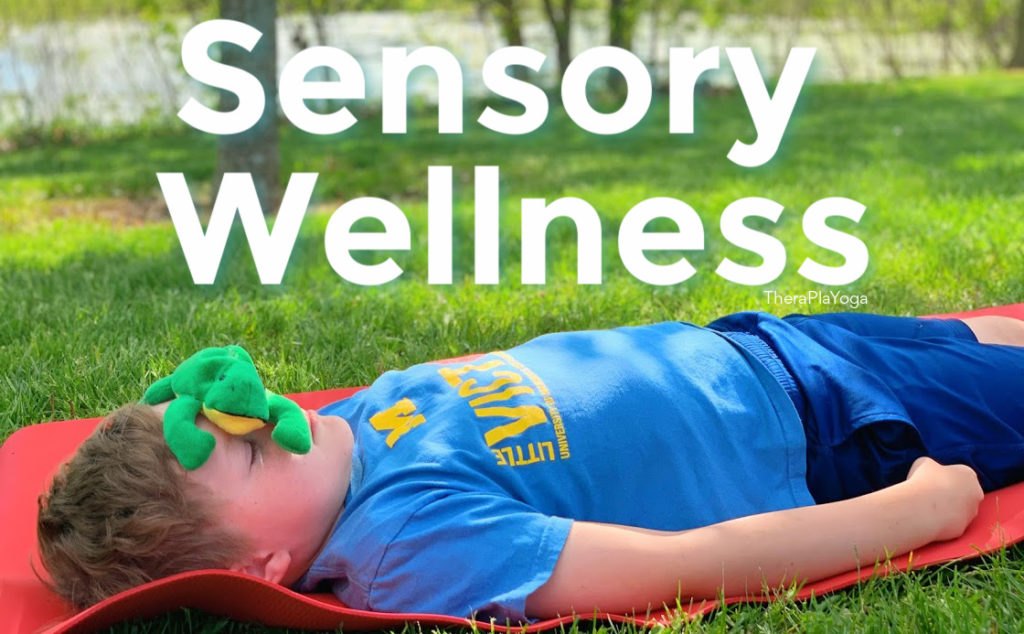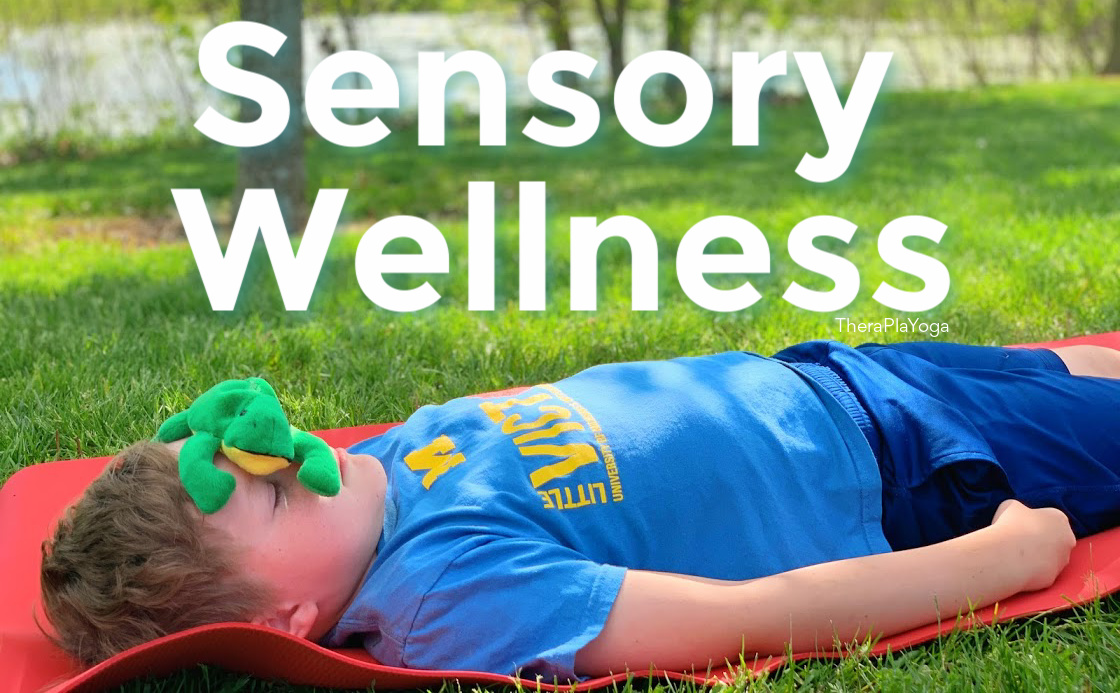 Benefits of TheraPLAYoga
TheraPLAYoga promotes sensory integrated fun while encouraging functional life skills for all ages and abilities.  Benefits of TheraPLAYoga include-
body + mind awareness
self-regulation
coping strategies for pain, anxiety + stress
balance + coordination (motor skills)
improved concentration + focus + problem solving
sensory regulation
speech + language development
social skills + social justice
agency + autonomy
self acceptance
posture improvement
spinal health + mobility
shoulder + hip + pelvis + sacrum health
strength + stability + flexibility
self-efficacy
social-emotional development
promotes growth mindset
cardio + circulatory health
increased immune function
decreased inflammation
improved respiration
energy boost
improved athletic performance
sleep support
promotes physical literacy
conflict resolution
fosters compassion + connection + collaboration
Hello!  I'm Gloria.
I snap my neck to any variation of mom, but you can call me Glo.  (That's my genetic half, inspiration, and yoga model/assistant, Liam). 
I'm a solo-parent/O.G. homeschool mom turned  mindfulness, meditation, and adaptive yoga teacher.  I'm also a mindful parenting coach and certified Positive Discipline educator.  (read bio)
TheraPLAYoga was created from personal experience.  What began long before any certifications- and continues, as daily deliberate practice for me and my son, is now my heart's work I share with you!
Fun Fact!  I'm the only registered kids yoga teacher (RCYT) within 40 miles of Lansing!  Also, I'm an uncensored writer and storyteller.  I share thoughts and experiences on my complex needs parenting and lifestyle blog, uniquely named Liam And Glo.  (Clever, right?)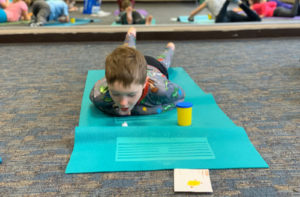 Methods + Techniques
Methods and techniques go beyond stretch-based bendy poses seen in many kids and adult yoga classes (and social media).  TheraPLAYoga is an eclectic blend of sensory-motor integration, yoga philosophy, neuroscience, playfulness, and my authentic experiences.  In addition, knowledge of contraindications, functional anatomy, biomechanics, and the use of intention-based pose variations and props to ensure an accessible, safe, holistic approach to awareness, regulation, and resilience.  For example-
sensory integration + nervous system balancing
somatics + building interoception
engaging visual + tactile prompts
breath + energy harmonizing (pranayama)
co-regulation + modeling
meditation + mindfulness
pose variations + props
contraindication awareness
journaling
intention focused + goal-oriented
trauma-sensitive approach
functional movement
music + sound therapy
aromatherapy
expressive arts therapy
positive behavior strategies
life affirming mantras + mudras
games
With education and experiential wisdom-
I help overwhelmed caregivers and people who experience physical and developmental disabilities, neurodiversity, health conditions, and trauma- safely and effectively create connection, manage stress, and relieve chronic pain.
I have a few ways for you to get involved!
Private sessions, yoga enrichment,  yoga parties, and pop-up yoga
Blog and social media content exploring wellness, science, and all things adaptive yoga
Share this website with a friend
Follow @TheraPLAYoga on Facebook or Instagram
Read a bit about me in Bio + Training.