3 ways to add yoga to your day.  Bonus- 2 outta 3 can be done in pajamas!  
Well, since it's day who-the-hell-knows of isolation, you might do all 3 in pajamas and in which case- you do you.  Last week, I shared Jedi Level Self-Care.  Let's chat about yoga for special needs parents and how to fit it on a full plate.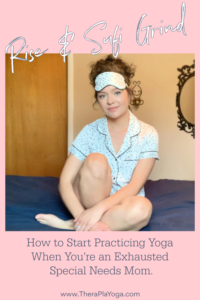 If your life is anything like mine was- stress, overwhelm, exhaustion, obligation- dictates whether or not you have time for you.
Speaking from an I-thought-I-was-near-death experience- you have time for you.
I'm going to take you through how I managed to get started with yoga while on the edge of chaos and exhaustion.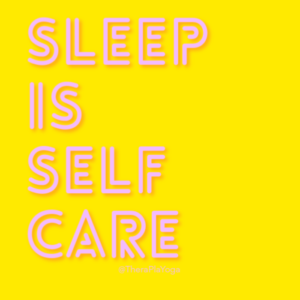 Rise + Sufi Grind*
*It appears I've retained more Sanskrit than I realized.  
[wpdiscuz-feedback id="dciu4gyiok" question="Do you agree?" opened="0″]I'm not an advocate for waking up early or staying up late to fit in self-care.  Instead, I'm an advocate for normalizing the FACT that sleep is self-care.[/wpdiscuz-feedback]

So when you wake up at whatever time you wake up in the morning, do a quick morning routine.  Before your tootsies press down on the floor, warm-up your body.
Coincidently, I have a video on a gentle morning routine!  😘
You can go one step further and set an intention for the day or repeat a mantra/affirmation you like.
Midday Meditation
Right around the halfway point of your day- ya know, when you realize you still have half of it left to go and you're not entirely sure you're gonna make it?
Go outside and put your bare feet to the Earth.  Sit if you'd like and take a few moments to just focus on your breath.  Stillness is self-care.
Midday is often when mind monkeys get me.  I start thinking about what I haven't achieved in the first half of the day and what that means for my last half of the day and BOOM!  Overwhelm!
This is a good time to remind yourself of your intention you set or repeat the mantra/affirmation.  You may even enjoy doing a body scan, but we'll save that for another time.
Best Nighttime Routine in the History of Ever
Corpse Pose.
That's the super-hard one where you just lay there like- like a corpse.
Begin by going to bed at a time that gives you 7-8 hours of sleep.
Let me back up….
Long before you go to bed, do all your other nighttime things- like washing your face.  No taking a sandblaster to your pores and splashing around in the sink.  That's invigorating.  We're not doing that.
You can, however, spritz some lavender spray on your bed and pajamas (totally do this for kidlets too).  If you have lavender essential oil or magnesium oil to rub into key areas, do it.  If not, no need to be extra.
Only get up if there's an emergency.
Pro tip:
If you're in a season of life where other humans disrupt your sleep, unscrew light bulbs to switches that typically get flicked on and add night lights or unscrew all but one bulb.  Also, try to talk as little as possible.  Talking will wake up your brain.  Use loving gestures to help other humans.  This will make if a bit more possible to lay back down and pretend to be dead until you fall asleep.
A few things:
Subscribe to my youtube channel.
Show some love to this post if you enjoyed it and share your thoughts below.
You can share Youtube video comments/questions here too.
Thanks for reading.  Be well.
xx Glo