I specialize in teaching trauma-sensitive, sensory-integrated, adaptive yoga as a resource for physical, mental, and emotional wellness and engagement for individuals and families with complex needs, diverse abilities, and backgrounds.
I'm Gloria Treviño, Inclusion & Compassion Activist, Therapeutic Yoga Teacher, and Founder & Owner of TheraPLAYoga.
I snap my neck to any variation of mom, but you can call me Glo. My pronouns are she/her.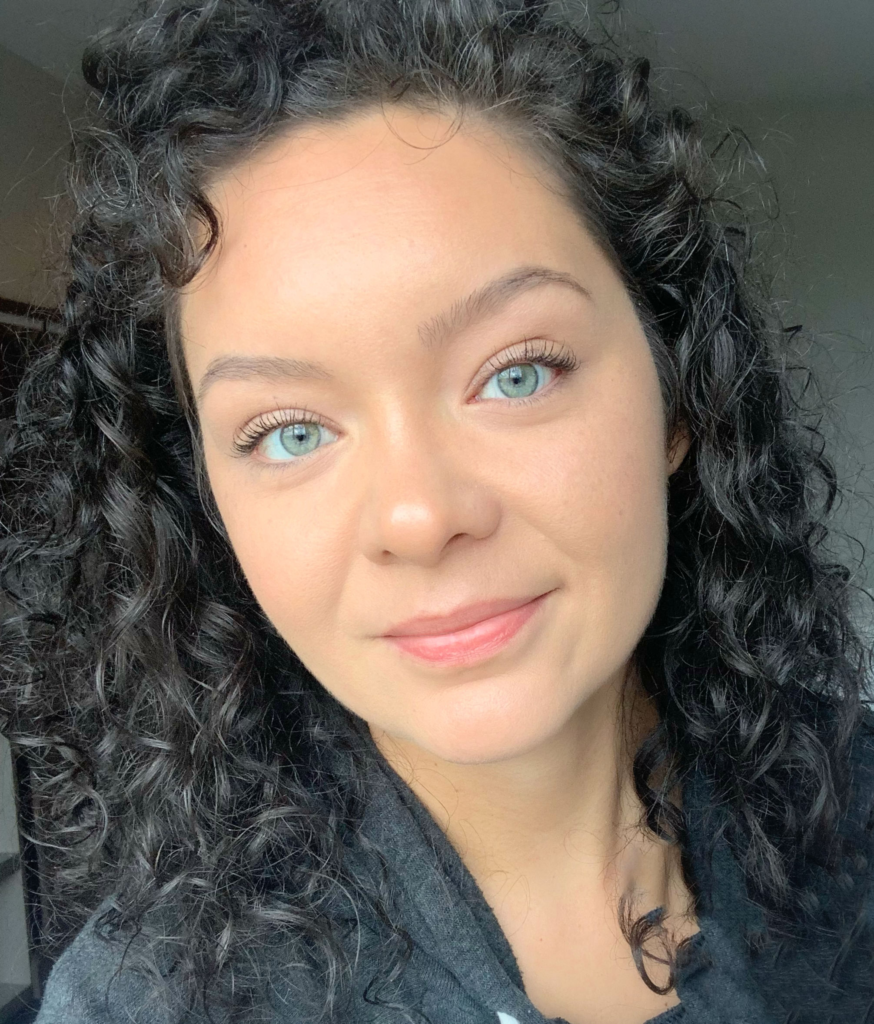 I KNOW what it's like to live on
the edge of CHAOS and EXHAUSTION.
With intention and deliberate practice, I took my table-for-2 family from that edge to a safe place, within ourselves, to regulate and build resilience.
As a solo parent to an autistic child with complex developmental disabilities, health conditions, and adverse experiences-
I KNOW the judgement, grief, and lack of support.
As a neurodivergent, mixed race, woman with traumatic experiences, invisible disabilities, chronic pain, chronic stressors, and autoimmune disease-
I KNOW the fear, overwhelm, and hyper vigilance.
Yoga and mindfulness have supported me and my son through a lot of challenges and stressful transitions over the past several years (and still do). From sensory and self-regulation to mindful parenting, healing traumas, and empowering purpose.
My Story
I grew up in the pines of northern Michigan in a mixed race and insecure home. My childhood and teen years were filled with intense challenges, which led to trauma, anxiety, and disconnection from myself.
I came to yoga out of curiosity when I was just a child. My first experience was reading yoga philosophy (and philosophy in general) from old encyclopedias given to me by my elderly neighbor.
At 26 years old, I became the 1 in 4 adults who are physically disabled in the United States.
After 10 weeks in the hospital, I left in a wheelchair with my hips about 3 inches smaller.
My back was broken in multiple places from my neck to my tailbone. I had several broken ribs, sustained nerve damage, and my pelvic area was smashed and broken in too many places to name.
Most of my capacity for functional movement was gone.
I looked "normal." I looked okay. But on the inside- mentally, emotionally, and physically- I was broken.
As I recovered (without insurance and therapy), I taught myself how to adapt yoga to my trauma impacted body and brain.
Mindful Mommin'
The following year, I had barely graduated from a walker and was about to meet my son!
Movement, mindfulness, and meditation helped me through a twin miscarriage, a high risk pregnancy, my son's birth day, postpartum, and navigating his list of diagnoses.
In the early days of sensory processing disorder, autism, medical conditions, non-vocal speech apraxia, intellectual and developmental disabilities- doin' Mom stuff was WILD
(and exhausting, and scary, and hard… like really hard, and overwhelming, and lonely).
This is when I learned, in real time, the connection between sensory integration, yoga, our synced nervous system, behavior and learning.
Sensory meditation was our practice- our foundation for regulation and connection.
Among many other great lessons, my son taught me how to adapt yoga to kids with complex needs and limitations.
Chronic Stress, Chronic Pain + Chronic Illness
My adult traumas piled on to my childhood traumas WREAKED HAVOC on my nervous system. My son was about 4- when my health and mobility began aggressively declining.
I struggled with meditation, resting pose, bed time. Anytime I was left to notice how much pain and fear I was in- I was struggling.
My practice was threatened by multiple autoimmune diseases, chronic pain, and chronic stress. But ended up being what helped me recover and take action.
Liberation + Service
My physical practice, mindful nutrition, and meditation helped me regain functional movement, manage anxiety, stress, and chronic pain; guided me in positive parenting, and reconnected me to my body and intuition.
As I followed my intuition through uncertainty to purpose, I empowered my own liberation from domestic abuse and was able to shift into healing, wholeness, and service.
For years, I day-dreamed about certification, teaching, and having a studio. My practice helped me get clear on my purpose. I sought yoga teacher training and mentorship from people who aligned with my values and goals.
My lived experiences are my MOST valuable credentials.
Qualifications + Certifications
10+ Years as Liam's Student (aka Mom)
Lived Experiences from my social location
Excellence in Collegiate Anatomy, Physiology, Developmental Psychology
Certified Positive Discipline Educator
200 hr Yoga and Mindfulness for Youth with Special Needs (Yoga Alliance RCYT)
200 hr Accessible Vinyasa and Hatha Yoga (Yoga Alliance RYT)
25 hr Therapeutic Sequences and Alignment for Spinal Health, Injury, Pain and Limitations
35 hr Yoga for Accessible and Socially-Conscious Yoga for All People
30 hr Accessible Prenatal and Postpartum Yoga
25 hr Integral Yoga and Mindfulness for Children
Oh! And…
Adaptive Yoga Teacher AND Practitioner (I practice what I teach)
Founder & Owner of TheraPLAYoga
Fun Facts About Your Girl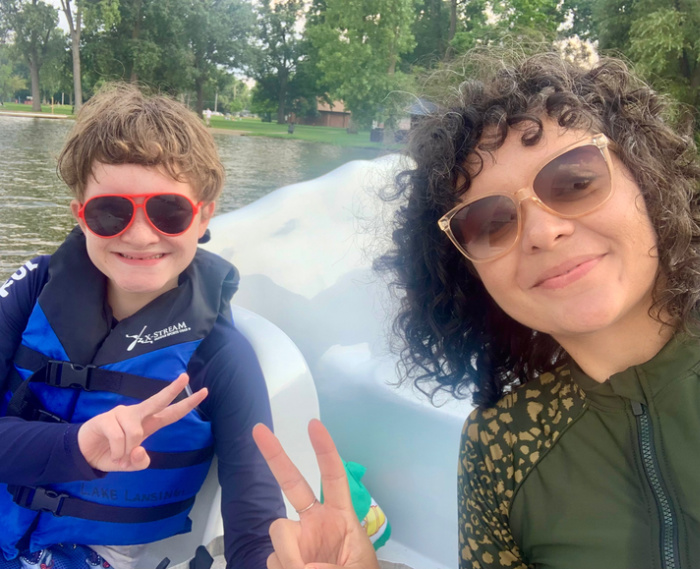 I live with my son and our doggo in Lansing, Michigan.
My favorite color is glitter. Hot tamales with coffee are my comfort food. Writing has been my therapy since I could scribble.
On this blog, I write about nervous system regulation, social-emotional resilience, and community (local and afar), among other things.
I love ice cream, books, naps, trees, views of the sky, yard sales with lemonade stands, and I'm obsessed with how the brain works. Especially sensory processing, nervous system regulation, and trauma response.
You're most likely to catch me doin' mom stuff, yoga things, nature adventures, or riding a shopping cart like a scooter, and plotting to change the world.
Social Justice
I'm embracing more creative and expansive ways to uphold the things I value, like: inclusion, compassion, and accessibility. Meanwhile disrupting the systems of privilege and power, which contribute to and maintain disparities, social inequities, and gatekeeping in the yoga industry and my local community.
My work towards this shows up in different ways.
I serve on the Michigan Department of Health and Human Services Office of Child Support (MDHHS-OCS) Advisory Council, which guides efforts for diversity, equity, inclusion, accessibility, and meaningful change at Michigan Friend of Court.
I'm a board member for the Michigan Advocacy Program (MAP), which provides low-income and senior people with equitable access to the justice system through direct legal help and works toward systemic solutions.
As a parent mentor for The Family Center for Children and Youth with Special Health Care Needs (Family Center), I provide resources and emotional support to parent caregivers throughout Michigan.
As an Accessible Yoga Ambassador and registered Yoga Alliance member, I promote equity and inclusion in the yoga community.
Through an equity-focused lens, I offer trauma-sensitive, sensory-integrated mind-body practices, creative expression, and play as resources for physical, mental, and emotional wellness.
I work with educators, therapists, community-minded and ethical non-profit organizations to uplift individuals and families in the Greater Lansing area, who would benefit from TheraPLAYoga as a physical, mental, or emotional wellness resource.
Therapeutic Yoga Teacher + Entrepreneur
I started my business to fill the hole in the local yoga community and holistic wellness programs for
individuals and families who experience the intersectionality of neurodivergence, disabilities, and trauma.
I began teaching private and group sessions online just before the covid pandemic. When the world became a bit safer, I transitioned to teaching private, in-home therapeutic sessions to individuals and families.
NOW…
I'm proud to say I'm the founder and owner of Mid-Michigan's FIRST and ONLY trauma-sensitive adaptive yoga studio optimized for individuals and families with complex needs, diverse abilities, and backgrounds.
Adaptive Yoga Studio- Lansing
A boutique yoga studio located on the Eastside on Downtown Lansing on the Michigan Avenue Corridor.
TheraPLAYoga is the middle child between The Green Door and Everybody Reads Bookstore. I can make heart shaped Roger Rabbit eyes at Rooted Socialite and Strange Matter from my windows.
TheraPLAYoga Studio is a huggable space- offering therapeutic, playful yoga as a modality of creative self-care, community care, complementary care, and alternative care in private sessions and groups up to 8.
When practiced with playfulness, compassion, and easeful poses, yoga can be inclusive and accessible to every body and brain.
My Intentions
My passion is in making difficult yoga poses, confusing yoga philosophy, the science of yoga, embodied self-care, and community-care radically inclusive and truly accessible to diverse bodies, brains, and abilities.
So individuals can connect to their bodies, transform their relationship with their minds, and engage more [play]fully in their relationships.
Empowering my students to practice yoga and mindfulness off the mat with confidence, curiosity, and relentless compassion.
I'm committed to my own path of restoration and improvement of health and wellness. I teach from the path I've walked and I'm thrilled to share my heart's work with you.
I understand and KNOW- first hand- how movement (and stillness), mindfulness, meditation, and play can regulate, empower, heal, and connect us to ourselves and others. I also understand a handful of reasons why you may be hesitant to try yoga- or try yoga again for yourself or your child.
Psst… I offer free 15 minute curiosity chats.
With Gratitude,
Glo