TheraPlaYoga™ is a therapeutic, playful pop-up yoga studio designed for families with complex needs and diverse abilities.
However, TheraPlaYoga™ programs and services are inclusive and beneficial to ALL people of ALL abilities.  You can find details of services offered in the Greater Lansing area, around Mid-Michigan, and online- right here.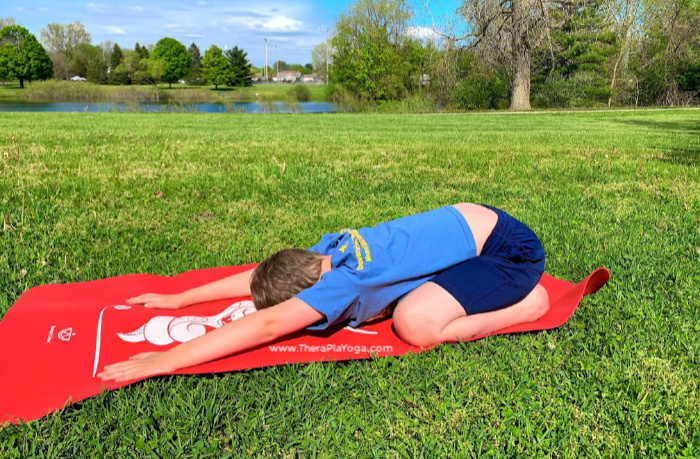 TheraPlaYoga™ was developed with education, training, personal experience, and loads of passion.  My mission is to help families whose lives are often governed by chronic stress, chronic illness and pain, a child's complex needs, and the lack of opportunities offered to fulfill those needs.  Families-similar to my own.
TheraPlaYoga™ offers fun while encouraging functional life skills and peace while being playful.  My goal is to empower my students to enjoy their time practicing yoga while discovering ways to reflect, engage, and connect more fully in their lives using techniques learned in sessions.
a playful path to peace or a peaceful path to play.
Through workshops, I offer parents, caregivers, and teachers mindful, positive practices and tools- to create a collaborative, peaceful, and productive environment for youth.  I also welcome women and mothers who experience chronic stress, complex post-traumatic stress, and chronic illness to classes and workshops designed for their complex needs.
More info on workshop details- coming soon.
Yoga for Complex Needs
Although TheraPlaYoga™ is inclusive to all abilities, individuals with complex diverse needs or specific goals may benefit most from private sessions.  For instance-
autism
sensory processing disorder
behavioral challenges
motor delays/disorders
cognitive/learning disabilities
speech-language delays/disorders
Cerebral Palsy
chromosome disorders
limited mobility
processing delays
anxiety
difficulty expressing emotions
trauma
chronic stress
autoimmune illness
and more
TheraPlaYoga™ Unique Methods + Techniques for ALL
The methods and techniques practiced, go beyond stretch-based poses seen in many kids' (and adult) yoga classes.  In fact, TheraPlaYoga™ blends sensory integration, Integral yoga, and play.
This includes knowledge of contraindications and the use of modifications for a safe, holistic approach to self-awareness and progression toward self-regulation.  The practiced methods and techniques below ensure the safety, enjoyment, and progression of each student.
sensory integration + nervous system balancing
engaging visual + tactile prompts
breath + energy harmonizing (pranayama)
meditation + mindfulness

 

guided modified movements (asana)
contraindication awareness
intention focused + goal-oriented
trauma-sensitive approach
other therapeutic yoga + functional movement
music, games, marching, skipping, dancing + props
positive behavior strategies
Life Skills + Benefits Achieved with TheraPlaYoga™
To achieve the greatest results or for students with complex diversities, private sessions are recommended.  You can learn more about private sessions and other services right here.  Results will vary on the student's complexities, goals, longevity with the program, and parental support.
body + mind awareness
self-regulation + independence
coping strategies (anxiety, stress, etc)
balance + coordination (motor skills)
focus + attention
language + communication
social skills
strength + flexibility
self-acceptance + confidence
social-emotional development
sleep support
Hello!  I'm Gloria.
I snap my head for any variation of mom, but you can call me Glo.
I am a yoga, mindfulness, and meditation teacher for families with complex needs and diverse abilities.  I'm also a certified mindful parent coach and positive discipline educator.
I have personal experience with post-traumatic stress, chronic stress, and chronic illness and pain.  For the past 10 years, I have been a stay at home-homeschool mom to my favorite human and best teacher, Liam, who is the inspiration behind TheraPlaYoga™.
THIS is my grand entrance back into the "work world" and I couldn't be more thrilled!
I'm a semi-uncensored writer and sharer of real life on my special needs parenting and lifestyle blog, uniquely named Liam And Glo (clever, right?).
Thanks for visiting!  Pop over to YOGA services next.
//
P.S.  Sign up for emails and follow TheraPlaYoga™ on Facebook and Instagram and introduce yourself there!  I'd appreciate it if you shared this with everyone-using the purple icons below.