Come on in! Let me show you around my yoga for special needs blog!
I'm Gloria- or Glo. Brief overview: I'm approaching 37. My son is nearly 10. I'm in the midst of a divorce. I'm back in the work world after a 10-year hiatus and I thought I'd try the entrepreneur hat on for size. It's big but I'll grow.
You can read a bit about me and TheraPLAYoga™, here.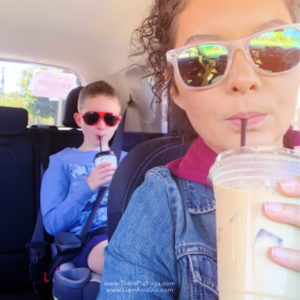 This is my second blog. The other is called Liam And Glo. It's more personal- about special needs parenting and lifestyle. You can learn a lot more about me and my son, Liam, there.
Do you remember how your teacher in grade school seemed so professional? Then you saw her on summer break and realized she's an animal like everyone else? That's kinda like my two blogs. There'll be realness here too; minus the profanity.
I decided to add a blog to this business site to keep yoga-related content concentrated in one area. However, I'm imagining there being times I send you over to my other site for additional content without redundancy.
You Are Meant to Be Exactly Where You Are
Hopefully, you're here to get information and tips on adding yoga, meditation, and mindfulness to your life. If not, you may be lost and you should just start shouting for help.
Maybe you have offspring (child or adult) with diverse abilities and special needs or you, as a parent/caregiver, are searching for information, tips, tricks, and how-tos in adding the benefits of yoga to your life. Hell, maybe you don't even know the benefits of yoga.
Disclaimer: "Hell" doesn't count as a swear word.
That's the intention behind THIS blog. I want to share with you the benefits of yoga, meditation, and mindfulness. How it positively affects parenting, adulting, developing- existing! If you're a teacher (yoga or other) or work with people with special needs in any capacity, I want to share with you what I've learned about teaching, learning, communicating- everything!
An inclusive, peaceful, collaborative, enriching environment is what I want to help you create.
So here's my plan.
I intend to post a blog, here, twice a week to start- Tuesday and Thursday. On Thursday, I will post some relevant info on yoga, mindfulness, or meditation. Tuesday, I will post a blog version of the video posted on the TheraPLAYoga™ Youtube channel. Youtube videos get posted on Friday.
Due to Youtube's new policies, comments are turned off. However, I want you to comment on blog posts, here. You can also jump on your favorite social platform (Facebook, Instagram Twitter, Pinterest), go to my latest post, and comment (even if you feel like it has nothing to do with that post- just make your comment or ask your question. I will see it). Contact or email me directly at Gloria@TheraPLAYoga.com.
What's Next?! (yell like the doctor on Odd Squad)
As a product of a traumatic childhood, dysfunctional and abusive relationships, autoimmune illness, mom to a child with diverse and special needs- stress, trauma, illness, repeat- practicing yoga, mindfulness, and meditations has brought me awareness, healing, and strength. For my son, it fostered awareness, regulation, and communication.
What's that saying- Make your mess, your message? That's my goal.
So if you're on board for this adventure-
Sign up to get the email newsletter.
Subscribe + click notification bell on my Youtube channel
Follow @TheraPLAYoga on Facebook, Instagram, Twitter, and Pinterest
Either on Facebook or Instagram, comment on my latest post to say Hi and introduce yourself.
Give this post a little love by tapping the heart and share using the purple icons.
Thanks and until Tuesday, loves.
xx Glo
P.S. Monday's post- Jedi Level Self-Care for Special Needs Moms