TheraPLAYoga is an interoception and sensory wellness modality for individuals and families with complex needs, diverse abilities, and backgrounds.  In addition to anyone (especially beginners) just wanting to Namaste and play.
TheraPLAYoga is trauma-sensitive yoga designed for diversity, inclusion, equity, and accessibility.  Classes range from Hatha, dynamic vinyasa, to restorative yoga.  Practice includes therapeutics, pranayama, meditation, relaxation, anatomy, yoga philosophy, asana- with a focus on function over form.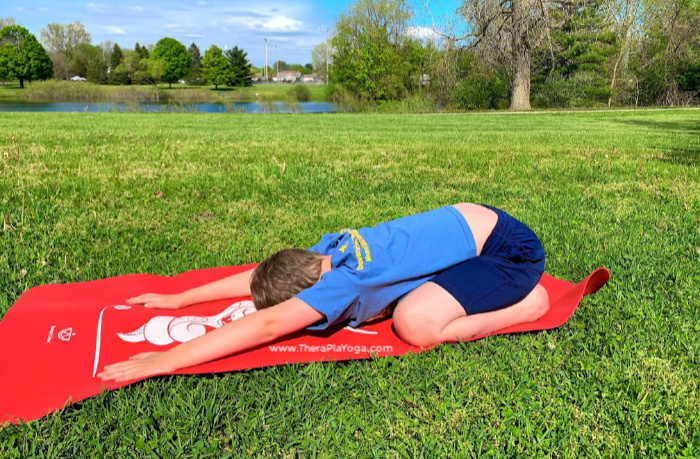 Mobile Yoga Studio – Lansing, MI
TheraPLAYoga was developed with education, training, personal experience, and loads of passion.  As a mobile yoga studio with virtual access, it's more accessible than most.  Classes and workshops are held in various locations in the Greater Lansing area and across Mid-Michigan, including privately in your home.  In short, adaptive pop-up yoga in YOUR house or hood!
Workshops + Mentorship
Workshops are designed to teach parents, caregivers, and educators how to create safe, accessible, and equitable spaces for communication, collaboration, regulation, and connection.
In addition, I offer private mentorship to discerning parents in building unshakable confidence in parenting with compassion, intention, and respect.
Hello!  I'm Gloria.
I snap my neck for any variation of mom, but you can call me Glo.  (That's my genetic half and yoga model, Liam).
I'm a solo-parent / homeschool mom turned yoga, mindfulness, and meditation teacher.  I'm also a certified mindful parent mentor and positive discipline educator.
I help individuals and families with complex needs, diverse abilities, backgrounds, and experiences; prioritize connection, health, and sensory wellness through therapeutic playful yoga.
My personal experiences include traumatic stress, chronic stress, chronic pain, and autoimmune illness; overwhelm and burnout.  Therefore, I know what it's like livin' on the edge of chaos and exhaustion.
Also, I'm an uncensored writer and storyteller.  I share real life on my special needs parenting and lifestyle blog, uniquely named Liam And Glo.  (Clever, right?)
I believe that with playfulness and easeful modifications, yoga and meditation can be non-intimidating and accessible to everyone.
Therefore, my mission is to guide individuals and families in understanding and experiencing the profound benefits of mind-body practices.  Especially those who seek regulation, less overwhelm, and more enrichment.
Above all, empowering students- kids and adults- to enjoy practicing yoga with confidence and curiosity.  Meanwhile, discovering ways to reflect, engage, regulate, and connect more [play] fully in their lives.
Sensory Friendly Yoga + Wellness
TheraPLAYoga is specialized in sensory wellness through meditation and gentle movement.  As a result, achieving mindfulness, emotional and behavioral regulation, connection, and interoceptive awareness.  Adaptive playful yoga promotes sensory integrated fun while encouraging functional life skills.  
Adaptive Yoga
Individuals with complex diverse needs or specific goals will benefit most from private sessions.  Regardless, as a yoga teacher, my training specialized in the accessibility and inclusion of diverse children and adults.  For instance-
autism
sensory processing disorder
behavioral challenges
motor delays/challenges
cognitive/learning disabilities
speech-language challenges
Cerebral Palsy
chromosome anomalies
global developmental delay
wheelchair user
limited mobillity
processing challenges
anxiety
difficulty expressing emotions
trauma
chronic stress
autoimmune illness
diverse body shapes + sizes
spinal (neck/back) injury + pain
shoulder, hip, pelvis, sacrum injury + pain

Methods + Techniques
Methods and techniques go beyond stretch-based bendy poses seen in many kids and adult yoga classes (and social media).  TheraPLAYoga blends sensory-motor integration, yoga, and playfulness.  In addition, knowledge of contraindications, functional anatomy, biomechanics, and the use of modifications to ensure an accessible, safe, holistic approach to awareness and sensory wellness.  For example-
sensory integration + nervous system balancing
engaging visual + tactile prompts
breath + energy harmonizing (pranayama)
connection + co-regulation
meditation + mindfulness

 

guided modified movements (asana)
contraindication awareness
intention focused + goal-oriented
trauma-informed + sensitive approach
functional movement
music + sound
games
positive behavior strategies
journaling + mantras

Benefits of TheraPLAYoga
TheraPLAYoga will produce benefits from participation in group enrichment, online, on-demand, and pop-up yoga classes.  However, results will vary based on the student's complexities, goals, and practice experience.  In short, private sessions will promote the greatest benefits and functional life skills.  For instance-
body + mind awareness
self-regulation
independence + autonomy
emotional coping strategies (anxiety, stress, anger, etc)
balance + coordination (motor skills)
focus + attention
sensory regulation
language + communication
social skills (boundaries + respect)
improves posture
complete spinal health
shoulder + hip + pelvis + sacrum health
strength + flexibility
self-acceptance + confidence + compassion
social-emotional development
cardio + circulatory health
increased immune function
decreased inflammation
improved respiration
energy boost
improved athletic performance
sleep support
promotes physical literacy
fosters connection + collaboration
With experiential wisdom and training; I teach kids, teens, and adults how to cultivate self-awareness, self-compassion, and regulation that's playful, effective, and within their limits ('cuz we all have them).  While teaching parents and educators mindful positive practices to create safe, peaceful, and collaborative environments.  Follow the button below to read my bio and training.
If you have questions, email me, or for a quicker response send me a message on Instagram @TheraPlaYoga.  I'm eager to connect and look forward to working with you.  – Glo