and 5 other reasons special needs moms should practice yoga
The first time I practiced yoga in a studio, I was in San Diego training to be a teacher.  I wrote a bit about that experience in my life update on Liam + Glo.  Before then, I just didn't have the life that offered such an opportunity (and not only because I'm a special needs mom).
Yoga is not only practicing breath and movement but meditation and mindfulness too.  Yoga is Jedi level self-care for special needs moms, which feels more important now than ever.  Here are a few reasons to make yoga your self-care routine.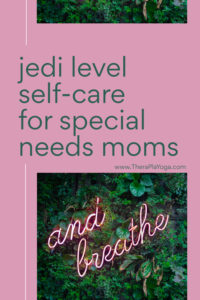 No competition
Yoga isn't competitive- even in a studio surrounded by 1-1000 people.  It's just you, your thoughts and feelings, and your mat in deliberate practice.  Yoga is a practice that meets you where you are, so you just have to show up on the mat.
Judgment Free Zone
Judgment is the antithesis of compassion.  Of all the amazing things we offer as women and mothers,  we often lack self-compassion.  Your mat doesn't care about what you wear, if your poses are Insta-worthy, or how long you practice.  Whether you're at home or eventually make it to a studio, no one cares what you can and can't do.  The mat is a safe place to be yourself.
Acceptance
As special needs moms, we run around with capes blowin' in the wind, exhausting the shit outta ourselves trying to create a safe, loving, and accepting world for our kids.  We can only, start, to do this when we accept we can't do it all.  We can't fix things or change anything but ourselves.  However, we can hope to influence others to hold a space for people who need a bit more compassion and acceptance.
Yoga gives us a loving reality check that we ALL have limitations.
ROI is Bananas
You don't need to buy fancy or high dollar equipment to practice yoga.  All you NEED to practice yoga is a mat and creativity.  I have a $5 mat from 5 Below.  You can find props around your house to use during practice.
However, the benefits you get from practice are- well, bananas.  From stress relief to developing a stronger awareness of your self, the benefits are grand.  I've learned, first hand, chronic stress causes chronic illness.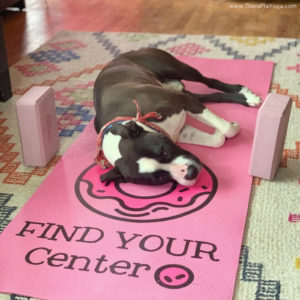 Prana, Mama
Throwin' a little Sanskrit your way.  I know like 3 words, so it won't happen often.  Prana means breath or breathe.  Breathing is more important than the pose.
There's a popular yoga quote by Jigar Gor-
It's not about touching your toes.  It's what you learn on the way down.
Whether it's belly rolls, tight muscles, or injury- it's not about the bendy poses and seamlessly fluid movements.  Those become results, but the goal is to breathe.
This is where mind monkeys are tamed.  Just breathe, mama.
Jedi Level Self-Care
Another thing I've learned- yoga is a lifestyle.  Yoga is not something you do when life is a dumpster fire, then go back to life as usual when it lessens to a not-so-sexy smolder.  It's deliberate practice.
Yoga is a non-destructive time and effort commitment to yourself.
It's the choice to bring all your bullshit to the mat, exist with it, and breathe (or cry if you're a cry head, like me).  Girl, I get on the mat and I'm like Chunk confessing to the Fratellis.
This is the soft version of why special needs moms should practice yoga.  We'll get into more specifics and the scientific voodoo that supports why yoga is life.  But let me leave you with this thought- your kids learn from what you do.  If you're ridin' shotgun with TheraPlaYoga thinkin' it's just for your kids, they won't get nearly as much out of it as they would if you were practicing too.
If I can just add to your to-do list:
I'm releasing my intro youtube video Tuesday.  Go there and click the subscribe button.
Sign up for the email newsletter.  I'm thinking bi-weekly, for now.
Find @TheraPlaYoga on FB and IG and say hi and introduce yourself.
Leave a comment or introduce yourself below.
Be Well.  Prana, Mama
xx Glo
illustration by @LaMalaYogini
P.S. In my introductory post, I said this blog would be my authentic voice "minus the profanity."  That proves more difficult than I expected.  On Liam + Glo, I wrote about my experience with Monkey Mind and how I calmed them.  Check it out here.