Online yoga may be the way of the future!  It's certainly the new normal.  Online adaptive yoga provides similar benefits to in-person sessions.  For instance, sensory regulation, concentration, stress management, and sleep support.
Above all, virtual yoga offers greater accessibility.  Accessibility is kinda my whole thing.  However, online yoga does require access to a strong internet connection.
Read about the benefits of TheraPLAYoga.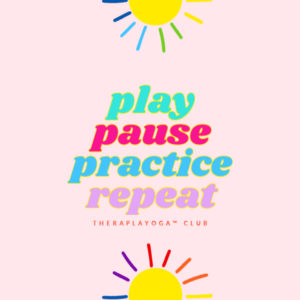 Private Adaptive Yoga
TheraPLAYoga offers a few options for private yoga.  For instance, one-on-one, group enrichment, and parties.  One-on-one online yoga is ideal for an individualized, goal-oriented session.  Additionally, it's convenient for people who live far from Lansing, MI.  Likewise, yoga enrichment is goal-oriented sessions for groups.  Navigate your private yoga options using the button below.
On-Demand Accessible Yoga Videos
TheraPLAYoga Youtube channel offers on-demand adaptive yoga videos.  Discovery videos provide FREE tips and guidance to beginners.  In addition, videos are shared on this blog.  Explore videos on-demand using the button below and subscribe to my channel.
Follow @TheraPlaYoga on Instagram and/or Facebook for more videos and tips.
LIVE Adaptive Yoga + OutSchool
TheraPLAYoga offers LIVE-online, adaptive yoga classes for small groups.  LIVE classes are hosted on OutSchool, which is a safe and reputable online learning platform for learners aged 3-18.  Visit my OutSchool profile to find class details and enroll.
LIVE OutSchool classes have limited capacity and require a parent/learner profile to register.  Therefore, if you're new to OutSchool, follow the button below to create a profile.  This referral link will reward you with a $20 credit towards your first class!  Then find my profile and enroll!
If you have questions, contact me or send a message on Instagram @TheraPLAYoga.