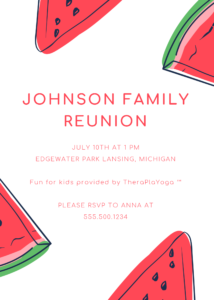 EVENT: Johnson Family Reunion
DATE: Saturday, July 10
TIME: 1:00pm – 4:00pm (Kids Yoga will be from 1:10pm-2:40 pm)
LOCATION: Edgewater Park Lansing, MI
WHAT TO BRING: If you have your own mat, you are welcome to bring it.  I also have some to borrow.
WHAT TO WEAR:  Kids should wear comfortable clothes they can move easily in!  Since this is outdoors- suncreen!
PARTY SPECIFICS: TheraPlaYoga™ is therapeutic, playful, yoga.  We will learn poses, partner challenges, practice mindfulness, and relax in peaceful moments.  After yoga, we'll do a mindful craft each child can take home.  Stick around to fill their bellies with food and watermelon!
Additional Notes from [Host]:  If there are food allergies, notify in your RSVP.
Additional Notes from Gloria: Notify the host of your child's injuries or health concerns.  Feel free to tag your photos on Facebook and Instagram, @TheraPlaYoga using #TheraPlaYoga #LansingYoga #InclusiveYoga
See you on July 10th at 1 to celebrate fun and family!
Namaste,
Gloria