Adapted Yoga for kids- body awareness and midline crossing activities.
This body awareness yoga song is a fun, easy way to introduce yoga to children with special needs.  It also packs the power of two skills necessary for development, coordination, and regulation- body awareness and midline crossing.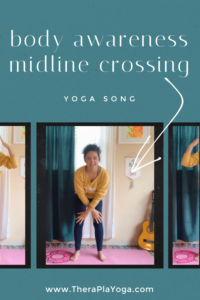 In this video, I share how to use kid songs with body awareness exercises and midline crossing exercises. This special needs yoga flow also uses sensory integration for self-regulation by including proprioceptive and vestibular activities.
Students with disabilities such as dyspraxia, developmental coordination disorder, global developmental delay, communication disorders, autism, and more will benefit from this yoga exercise.  Consider this for a therapy or homeschool warmup or fun brain break.
Remember, comments on the channel or off so comment here or on FB and IG.  If you enjoy this type of content, subscribe to my channel, like the video, and share (video or this post).  Doing this, not only, motivates me but it helps the channel become more discoverable to others.  I appreciate your support.
You can read about my goals and intentions for my channel and this blog HERE.
Enjoy!
xx Glo
P.S.  If you feel inspired to take videos or pics of your kids practicing TheraPlaYoga, share and tag me @TheraPlaYoga using #TheraPlaYoga.